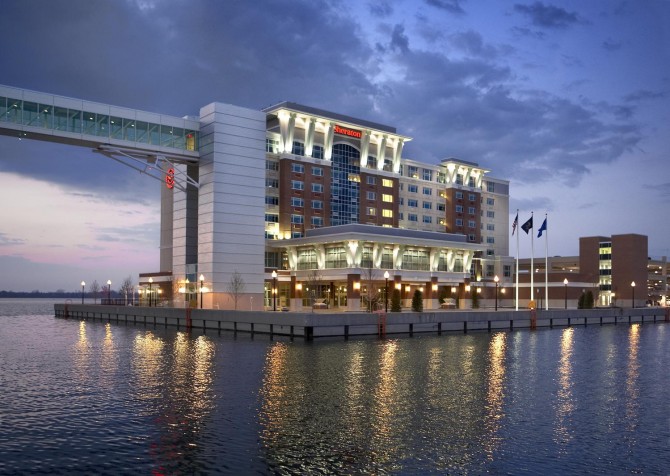 Sheraton Erie Bayfront Hotel
Connected to the Bayfront Convention Center via a sky bridge, you can step into a world of welcoming comfort at the award winning Sheraton Erie Bayfront Hotel. The area's very first waterfront hotel located near State Street in the heart of Erie's Bayfront Marina District, our stylish hotel will offer sweeping views of Lake Erie's Presque Isle Bay.
Our central location will be ideal for business, weekend getaways, or to discover the historical and cultural natural wonders of northern Pennsylvania.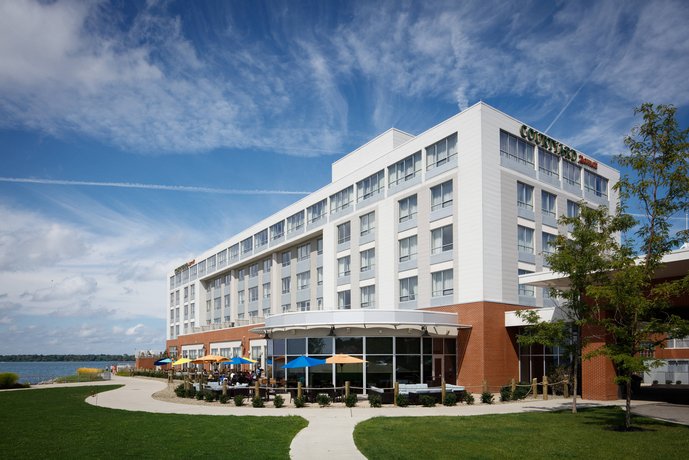 Avalon Hotel and Conference Center
16 W 10th St.
Erie, PA 16501
814-459-2220
Website »
Baymont Inn & Suites Erie
8170 Perry Highway
Erie, PA 16509
814-866-8808
Website »
Best Western – Presque Isle Country Inn
6467 Sterrettania Road
Fairview, PA 16415
814-838-7647
Fax: 814-838-7647
Comfort Inn
8051 Peach Street
Erie, PA 16509
814-866-6666
Fax: 814-864-1367
Website »
Country Inn & Suites
8040 Oliver Road
Erie, PA 16509
814-864-5810
Fax: 814-864-7589
Website »
Days Inn
7415 Schultz Road
Erie, PA 16509
814-868-8521
Fax: 814-866-8073
Website »
Red Roof PLUS+ & Suites
10 West 18th Street
Erie, PA 16501
814-813-2184
Website
Econolodge
8050 Peach Street
Erie, PA 16509
814-866-5544
Fax: 814-864-6218
Website »
Elk Creek Lodge
209 Main Street E
Girard, PA 16417
814-774-0011
Glass House Inn
3202 West 26th Street
Erie, PA 16506
814-833-7751
Fax: 814-833-4222
Website »
Hampton Inn South
8050 Old Oliver Rd
Erie, PA 16509
814-866-6800
Fax: 814-866-6814
Website »
Holiday Inn Express & Suites
8101 Peach Street
Erie, PA 16509
814-217-1100
Fax: 814-217-1189
Website »
Homewood Suites by Hilton
2084 Interchange Road
Erie, PA 16507
814-866-8292
Fax: 814-868-3222
Website »
Lake Erie Lodge
1015 Peninsula Drive
Erie, PA 16506
814-833-9855
Lighthouse Inn & Restaurant
3704 East Lake Road
Erie, PA 16511
814-899-9300
Red Carpet Inn
12264 E Main Street
North East, PA 16428
814-725-4554
Fax: 814-725-4426
Residence Inn
8061 Peach Street
Erie, PA 16509
814-864-2500
Fax: 814-864-0688
Website »
Sheraton Erie Bayfront Hotel
55 West Bay Drive
Erie, PA 16507
814-454-2005
Fax: 814-454-2009
Website »
Motel 6 Erie
7455 Schultz Road
Erie, PA 16509
814-868-0879
Toll Free: 800-899-9841
Website »
TownePlace Suites by Marriott
at the Millcreek Mall
2090 Interchange Road
Erie, PA 16565
814-866-7100
Fax: 814-866-7101
e-mail: Email
Website »
Wingate By Wyndham
Interstate 90, Exit 24
8060 Old Oliver Road
Erie, PA 16509
814-860-3050
Fax: 814-860-3051
e-mail: Email
Website »
Quality Inn & Suites
8040 Perry Highway
Erie, PA 16509
814-864-4911
Fax: 814-864-3743
Website »
Bel-Aire Clarion Hotel & Conference Center
2800 West 8th Street
Erie, PA 16505
814-833-1116
Fax: 814-835-0886
Website »
Best Western – Erie Inn & Suites
7820 Perry Hwy
Erie, PA 16509
814-864-1812
Fax: 814-864-1813
Website »
Comfort Suites
1007 Market Place Dr.
Edinboro, PA 16412
814-969-7000
Website »
Comfort Inn Presque Isle
3041 West 12th Street
814-835-4200
Fax: 814-835-5212
Website »
Courtyard by Marriott Erie Bayfront
2 Sassafras Pier
(814) 636-1005
Book Now »
Courtyard by Marriott
7792 Peach Street
Erie, PA 16509
814-860-8300
Fax: 814-868-9299
Website »
Edinboro Inn Resort & Conference Center
303 Plum Street
Edinboro, PA 16412
814-734-5650
Fax: 814-734-7532
Website »
Fairfield Inn & Suites
2082 Interchange Rd.
Erie, PA 16565
814-868-0985
Fax: 814-868-0985
Website »
Greenwood Inn
4535 East Lake Road
Erie, PA 16511
814-899-2133
Fax: 814-899-1449
Hilton Garden Inn
2225 Downs Drive
Erie, PA 16509
814-866-1390
Fax: 814-464-8992
Website »
Holiday Inn Express & Suites
6310 Old Station Road
North East, PA 16428
814-725-4400
Fax: 814-347-0450
E-mail: Email
Website »
Lakeview on the Lake
8696 E Lake Rd
Erie, PA 16511
814-899-6948
Website »
Microtel
8100 Peach St
Erie, PA 16508
814-864-1010
Fax: 814-866-6661
Website »
Red Roof Inn
7865 Perry Highway
Erie, PA 16509
814-868-5246
Rodeway Inn
2540 W Eighth St
Erie, PA 16505
814-838-2081
Fax: 814-838-2081
Website »
SpringHill Suites by Marriott
2087 Interchange Road
Erie, PA 16509
814-864-5000
Website »
The Inn at Presque Isle
2930 W 6th Street
Erie, PA 16505
814-838-1961
Fax: 814-838-1961
Travelodge
6101 Wattsburg Rd
Erie, PA 16509
814-825-3100
Website »
Green Roof Inn
8790 Route 18
Cranesville, PA 16417
814-774-7072
Fax: 814-774-9091
Website »