HORS D'OEUVRES
One hour minimum.
Individually priced at $4.50.
OR select from one of the following options:
Pick 4 (2 hot & 2 cold) for $16 per person/per hour.
Pick 6 (3 hot & 3 cold) for $24 per person/per hour.
Pick 8 (4 hot & 4 cold) for $36 per person/per hour.
COLD HORS D'OEUVRES
Gazpacho Shrimp Shooters
Cold and refreshing Spanish style soup with cucumber and a jumbo shrimp.
Prosciutto Caprese Bites
Cherry tomato, mozzarella cheese, prosciutto and basil pesto, drizzled with aged balsamic glaze.
Candied Bacon and Jalapeno Deviled Eggs
Hummus Vegetable Crudité
Cucumber, bell pepper, carrot and asparagus with roasted red pepper hummus
Smoked Salmon and Cucumber
Smoked salmon with a dill boursin cheese spread on an English cucumber
Antipasto Skewers
Smoked Trout Pate
A spicy horseradish cream cheese mixed with smoked trout. Served on a house made pimento cheese cracker.
HOT HORS D'OEUVRES
Thai Chicken Meatballs
Delicious sweet & spicy chicken meatballs with a red curry peanut sauce
Corn Fritters
Spicy, deep fried corn fritters, dusted with powdered sugar and served with a Thai chili sauce.
Pulled Pork Polenta
Cheesy baked polenta topped with BBQ pulled pork, sweet potato confetti and roasted corn.
Grilled Herb & Cheese Baby Portobello Mushrooms
Grilled baby Portobello mushrooms filled with aged parmesan, cheddar, mushrooms and herbs.
Barbeque Wagyu Beef Meatballs
Baked wagyu meatballs, tossed in a spicy and sweet house made barbeque sauce.
Beef Wellington
Baked beef tenderloin and duxelle wrapped in a puff pastry and baked. Served with béarnaise sauce.
Pot Stickers
Asian dumplings. Choose between chicken, pork or vegetarian. Served with Asian dipping sauces.
Steak Focaccia
Panini pressed focaccia bread with sliced angus sirloin, mushroom pate, caramelized onions, goat cheese and sliced Angus sirloin.
Asian Surf & Turf Kabobs
Grilled sirloin and shrimp kabobs, tossed in a teriyaki glaze. Topped with crispy wonton noodles and sesame seeds.
DISPLAYS
Priced per person
Charcuterie Board - $12
A selection of assorted meats and cheeses, accompanied by dried fruit, nuts, house made onion jam, whole grain mustard, honey mustard and heritage crackers.
Vegetable Crudité - $9
Assorted fresh cut vegetables and giardiniera, accompanied by hummus, baba ganoush and caramelized onion and garlic dip.
Jumbo Shrimp Cocktail - $13
(3 per person)
Jumbo shrimp with lemons, house made cocktail sauce and remoulade.
Seasonal Fresh Fruit Tray - $5
Seasonal fresh fruit with berries and yogurt dipping sauce
DESSERT DISPLAY - $8
A variety of fresh baked desserts including cakes, pies, dessert bars, brownies, cookies and dessert pastries.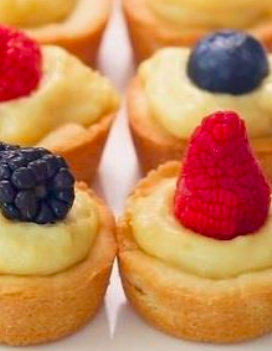 ACTION STATIONS & FOOD BARS
Potato Bar - $12
A variety of spuds including twice baked potatoes, Peruvian mashed potatoes, Duchess Potatoes and truffle fries. Served with garlic aioli, crème fraiche, shredded cheddar cheese, smoked bacon bits, butter and straw fried onions.
Fajita Bar - $14
Your choice of sautéed protein:
- Sliced Flank Steak
- Chicken
- Shrimp
Sauteed Vegetables to include:
Onions and a trip of peppers (serrano, jalapeno and poblano)
Sides:
Fried tortilla chips, refried beans, floured tortillas
Stir Fry Bar - $15
Your Choice of sautéed protein:
- Sliced Flank Steak
- Chicken
- Shrimp
- Sliced Pork
Sauteed Vegetables to include:
Snow peas, peppers, onions, broccoli, carrots and celery.
Sauces include:
Teriyaki Sauce, Sweet & Sour Sauce, Orange Ginger Sauce.
Sides:
Soba noodles, White ride, Fried rice
Condiments:
Guacamole, pico de gallo, sour cream, shredded lettuce, queso fresco, salsa, street corn.
Texas Smokehouse Carving Station - $8
Mesquite Smoked Pork Steamship.
Sides:
Baked cheese grits, Baked Beans, Corn Bread and Brioche Rolls.
Condiments:
Chipotle Maple BBQ and Peach Bourbon BBQ.
Dessert Bar - $12
Create your own Fruit Tarts
Pastry shell with your choice of filling:
- Lemon Curd
- Pastry Cream
- Whipped Cream
Fruit Choices Include:
Strawberries, blueberries, mango and kiwi.
Other Dessert Selections Include:
- Beignets
- Dessert Pastries
Mac and Cheese Bar - $8
Choose your own noodles:
- Penne Pasta
- Cavatappi Pasta
- Tortellini Pasta
Sauces Include:
- Smoked Gouda cheese sauce
- Cheddar cheese sauce
Toppings Include:
Smoked bacon bits, straw fried onions, chives, tomatoes, diced ham and shaved parmesan.