Wedding Receptions on the Bayfront
The beautiful Bayfront Convention Center is the premier location for your special wedding day. We provide exceptional service and menu selections that will leave you and your guests speechless. Please review the information provided to create the wedding of your dreams. Contact your Event Coordinator for a personal estimate.
Reception
Reception Package Includes:
5-Hour Reception
4-Hour Open Bar including call brand liquor, house wines and bottled beer
Tables, chairs and white linen with a variety of linen napkin colors
The following items are complimentary with your wedding package:
DJ Table
Cake Table - Bayfront Convention Center staff will cut and serve
Dance Floor
Security
Cocktail Tables - with white linen
Place Card Table
Gift Table
Standard White Table Linen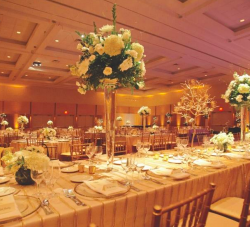 MENU OPTIONS
$95 per person (price inclusive of tax and service charge).
Cocktail Hour — Hors d'oeuvres
Choose up to 3 butler passed items or two with a display for a one hour cocktail hour.
Cold Hors d'oeuvres
Gazpacho Shrimp Shooters
Prosciutto Caprese Bites
Candied Bacon & Jalapeno Deviled Eggs
Hummus Vegetable Crudité
Smoked Salmon & Cucumber
Antipasto Skewers
Smoked Trout Canapes
Hot Hors d'oeuvres
Thai Chicken Meatballs
Corn Fritters
Pulled Pork Polenta
Grilled Herb & Cheese Baby Portobello Mushrooms
Barbeque Wagyu Beef Meatballs
Beef Wellington
Steak Focaccia
Asian Surf & Turf Kabobs
Displays
Charcuterie Board
Vegetable Crudité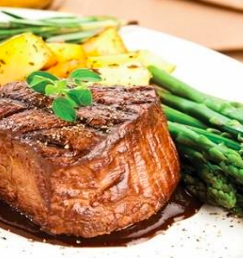 Choice of Salad
Please select one salad and up to two dressings to accompany your entrée choice.
Dressing choices (up to two): French, Buttermilk Ranch, Balsamic Vinaigrette, Honey Mustard, Bleu Cheese, Italian dressing, Strawberry dressing, Garlic and Mint vinaigrette, Poppy Seed, Cilantro Lime Vinaigrette.
Bayfront House Salad V
Mediterranean mix, cherry tomatoes, English cucumbers, carrot twirls and house made croutons.
Fattoush Salad
Artisan romaine and iceberg lettuce with grape tomatoes, cucumbers, carrots, red onion and pita croutons. Served with a garlic and mint vinaigrette.
Classic Caesar Salad
Artisan romaine, shaved parmesan cheese, house made croutons, creamy Caesar dressing, cherry tomatoes and chives.
Accompaniments (choose two)
Please select two of the sides to accompany your meal.
Garlic Mashed Potatoes
Roasted Herbed Red Bliss Potatoes
Vegetable Blend
Roasted Root Vegetables
Israeli Couscous
Green Bean Almandine
Garlic Herbed Rice Pilaf
Wild Rice and Ancient Grain Medley
Creamy Garlic Mashed Cauliflower
Parmesan Polenta
Asparagus Spears
Broccolini
Quinoa
Roasted Truffle Fingerling Potatoes
Bacon and Parmesan Brussels
Sprouts
Vegan and Gluten Free Options
Vegetable Pasta
Fresh vegetable blend, shaved parmesan and chef's choice of pasta in a garlic chardonnay cream sauce and aged balsamic reduction.
Stuffed Tomato
Vine ripe tomato with savory quinoa and vegetable stuffing finished with a chimichurri sauce.
Cheese Ravioli
Herb cheese filled raviolis with roasted red pepper and balsamic marinara.
Parmesan Polenta with Roasted Vegetables
Parmesan polenta topped with roasted peppers, zucchini, eggplant, cherry tomatoes and balsamic reduction.
Herbed Vegetable Cakes
A vegetable cake consisting of carrots, zucchini, feta cheese and herbs topped with a sweet chili sauce.
Dinner Options
All plated entrée selections include a choice of salad, dinner side options, rolls and butter. Coffee and hot tea are included for all plated meals. Each event may
choose up to two entrée choices.
Honey Mustard Chicken
A marinated and grilled 8oz chicken breast drizzled with a honey mustard sauce.
Garlic Butter Chicken
Pan roasted airline chicken breast topped with a garlic and butter cream sauce.
Citrus Chicken
Marinated airline chicken breast pan seared and baked with a sweet citrus glaze.
Baked Grouper
A white and lean fish that is part of the sea bass family, topped with a lemon cream sauce.
Pecan Pretzel Crusted Mahi Mahi
Baked Mahi Mahi fillet crusted with pecans and pretzels, accompanied with a Dijon cream sauce.
Wild Scottish Salmon
Grilled Scottish salmon with an orange ginger glaze.
Sirloin Strip Steak
Grilled black angus strip style sirloin rubbed in our house made seasoning.
Top Sirloin Steak
Grilled 8oz sirloin rubbed in a house blend.
Filet of Sirloin (+ $10 per person)
Chargrilled and lightly seasoned. All steaks are high quality USDA Choice and prepared to medium temperature.
Steak Accompaniments (choose one):

Garlic Butter Compound Butter.

Garlic Herb Compound Butter.

Red wine demi-glace.

Béarnaise Sauce.

House Made Steak Sauce.
Steak Enhancements:

Au Poivre

Sautéed Pearl Onions

Sautéed Peppers

Wild Mushroom Blend

Fried Onion Straws
DUET PLATES
Pair any of the following:

Honey Mustard Chicken

Garlic Butter Chicken

Baked Grouper

Wild Scottish Salmon

Filet Mignon

Top Sirloin Steak
BAR OPTIONS
Additional bar services must be determined one week prior to wedding date and paid in full.
Maximum of 4 hours.
Liquor (Call Brands) * Based on Availability
Vodka—Tito's
Gin—Gordon's
Rum—Captain Morgan, Bacardi
Scotch—Dewar's
Whiskey—Seagram's 7
Bourbon—Jim Beam
Beer (Choice of 3)
Bottles:
Bud Light
Miller Light
Yuengling
Labatt Blue
Michelob Ultra
Cans:
Wine
Cabernet
Chardonnay
Moscato
Bar Enhancements
Champagne Toast: $2 per adult guest
Premium bar brand upgrade available at $10 per person based on final guarantee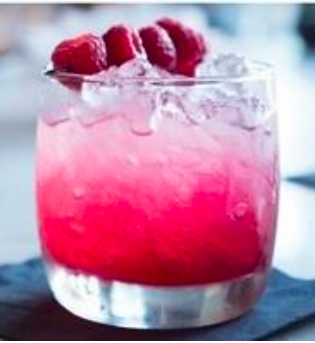 Reception Enhancements
Linen
Installation and removal is included. A 6% sales tax will be applied to final invoice.
| | | |
| --- | --- | --- |
| Floor-Length Linen | Black or White | $10.00 per table |
| Spandex Cocktail Table Cover | Black or White | $5.00 per table |
| Spandex Chair Cover | Black or White | $3.50 per chair |
| Outdoor Chair Covers | White | $3.50 per chair |
| Chivari Chairs and Cushion | Gold or Silver | $4.50 per chair |
| | | |
Reception
Additional options are available. Check with your Event Coordinator for a consultation to personalize your reception.
| | | |
| --- | --- | --- |
| Stage | 4' x 8' Sections | $20.00 per section |
| Risers | 4' x 8' Sections | $16.00 per section |
| Screen | | $40.00 per screen |
| Projector | | $100.00 each |
| | | |
| Full Downloadable Menu | | |
| | | |